Racing Rivals Hosted Edition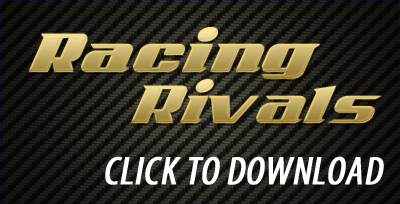 Racing Rivals Hosted Edition is a special version of Racing Rivals that is designed for Hosted races (as opposed to official iRacing events).
Racing Rivals Hosted Edition is a completely standalone application, so download and extract to a separate location (i.e. do not overwrite your existing Racing Rivals folder).
Licence codes for Racing Rivals are cross-compatible with Hosted Edition! The same single licence works for both products!
Working in a similar way to the main Racing Rivals application, Racing Rivals Hosted Edition connects to the iRacing membersite and downloads all your races from the hosted racing area of iRacing. Due to this, there are several differences in the Hosted Edition:
No Road/Oval differentiation. Hosted races are not 'Road' races, nor are they 'Oval' races. They are simply Hosted races. They do not use your iRating or Safety Licence, so these things are not tracked in the Hosted Edition.
No points tracking. For the same reason, unofficial/hosted races do not provide points so this is not tracked.
Slower race retrieval. The hosted racing section on iRacing is not as optimised as the official race area and as a consequence the retrieval of hosted races will be slightly slower.
Races where you don't complete lap one are excluded from race retrieval. This is an important point – in hosted races, if you join a practice session but leave before the qualifying and race sessions (perhaps you just wanted to run a few practice laps only) then you will still be listed in the final race results! Therefore it isn't ideal to include these race sessions as you'd add a lot of 'defeats/losses' to your Racing Rivals history.
The last point (exclude races where no laps have been run) is configurable and you can disable this feature if you wish. To do so, simply open up your app.properties file and change
skipZeroLapRaces=enable
to
skipZeroLapRaces=disable
The next time Racing Rivals Hosted Edition is started and synchronised it will include races where you did not start the race, or did not complete lap one.
If you have any problems/suggestions/questions about Racing Rivals Hosted Edition please email RacingRivals@samiad.co.uk – thanks!
Racing Rivals Hosted Edition Version History
21st January 2020 – v2.6.9 Hosted Edition – Mandatory update to restore login capability.
21st January 2020 – v2.6.8 Hosted Edition – Mandatory update to restore API access.
7th October 2019 – v2.6.6 Hosted Edition – Session results can contain results that don't include a race element. These are now skipped.
11th February 2017 – v2.6.5 Hosted Edition – Fix regression handling sessions with missing car data.
3rd October 2016 – v2.6.4 Hosted Edition – Small change to perform HTTP retries if connection is broken during session list download.
28th September 2016 – v2.6.3 Hosted Edition – Includes workaround for hosted race CSV results that have invalid/missing car data.
12th August 2016 – v2.6.2 Hosted Edition – Mandatory release to cater for iRacing website changes.
15th August 2013 – v2.3.1 Hosted Edition – Bug fix for users with very large friends lists not being able to register licence.
23rd February 2013 – v2.3 Hosted Edition – Mandatory update to support recent iRacing infrastructure changes.
17th February 2013 – v2.2 Hosted Edition – fixes to allow league race parsing, and parsing of timed race (as opposed to fixed lap races).
4th July 2012 – v2.1 Hosted Edition – First public release, created from v2.1 of Racing Rivals.
Disclaimer
Racing Rivals is not affiliated with iRacing.com™ Motorsport Simulations, LLC. and as such changes to the iRacing.com membersite may adversely affect the operation of this utility. In the scenario that Racing Rivals stops working due to changes outside of my control I will attempt to correct the issue on a best endeavors basis, but no guarantee of continual operation is implied.