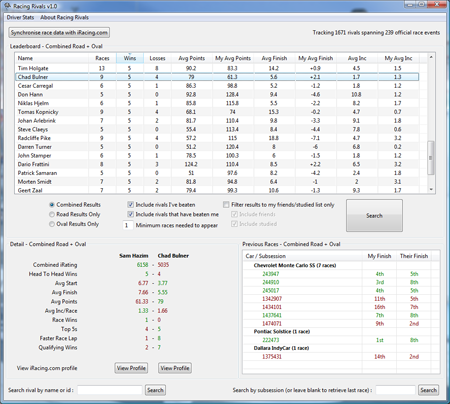 Racing Rivals is a new application for iRacing members that allows racers to easily pull up historical comparisons with every driver they have raced in the iRacing service.
A lot of times when racing I felt it would be really good to be able to pull up a racing history with a particular driver – e.g. I might have a great race with someone but not recognise the name – have we enjoyed great races in the past? Or, perhaps I'll have a scuffle with an overexuberant driver and so I'd like to see how our previous encounters fared – have we had aggressive encounters in the past? How can I find this out?
Racing Rivals can handle all this for you as it collects all your racing history into a lightweight application that can offer simple stat tracking of a number of areas. You can view the data in a simple leaderboard where you can see your top 'rivals', or you can search for a driver amongst the thousands in your history. Once found, you can view the stats between you to see who is getting the upperhand and from there you can pull up all your racing encounters (with quick and simple links back to the official iRacing.com results).
No doubt one day iRacing will offer this kind of rival/comparison features inside the main member site but until then, enjoy Racing Rivals.
More information (download locations and installation instructions) can be found here.