Racing Rivals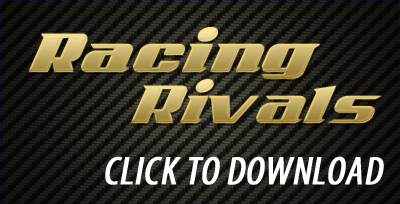 What is Racing Rivals?
Racing Rivals is an application for iRacers who like to discover all manner of interesting stats and facts about their online racing history.
Feeding off your official iRacing.com race results, Racing Rivals allows you to compare yourself against EVERY driver you've raced and find out who truly is the better driver!
(click the image below for a better view of the application)

You can discover things like :
Which drivers have NEVER beaten me? Who have I NEVER finished ahead of (despite 50+ attempts!)?
Who is the best driver in my friends or studied list?
Show me ALL the races where I've raced that person (friend or foe!)
Find the iRacer who is mathematically a perfect match for you, out of a potential 45,000+ driverbase!
Which car am I best at? Which circuit gives me my worst results?
How is my iRating/safety rating improving over time?
And much more!
Anything else?
Racing Rivals expands on the core feature set and provides more statistical analysis of your iRacing career with the addition of several new data areas:
iRating / Safety Rating charts
Racing Rivals charts your iRacing history from day one so you can see how you are performing as a driver. You can easily see at a glance your peaks and troughs of your iRating and safety record story. Even Rookie drivers can see their rating, which is otherwise hidden in the official race results!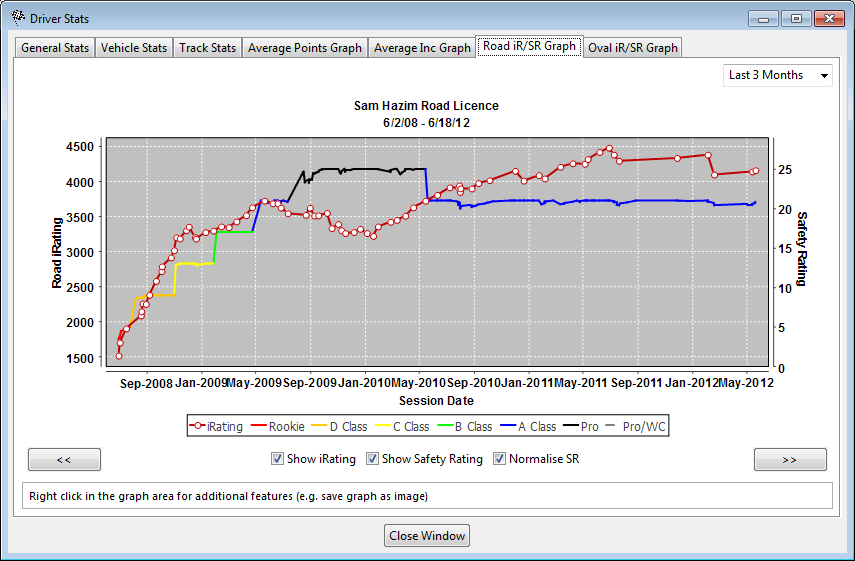 Average Points / Incident Rolling Average charts
Showing progression and improvement as a racer is a difficult thing to guage – these charts can show your actual race improvement, plus you have the ability to filter by road/oval, or by vehicle.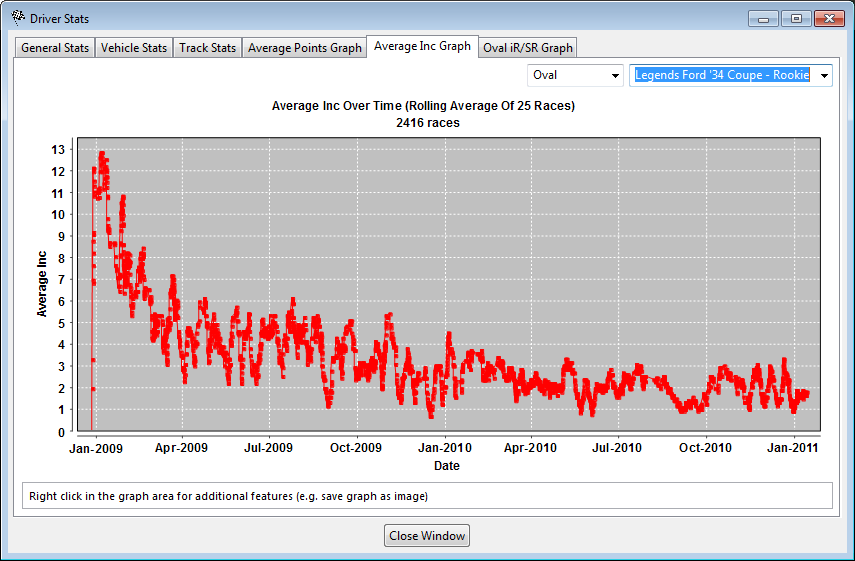 Vehicle & Track analysis
These screens are great for seeing which cars/tracks you perform best at, and which you struggle with. You might find you earn all your iRating with one combination, and then lose it all at another!

General summary overview
This view can give an interesting general overview of your performance, considering things like how clean your driving is compared to your rivals and who your closest rivals are.

Plus this version allows you to save your logon information between program launches!
How can I get Racing Rivals?
Racing Rivals can be downloaded here! The latest version is v2.6.9. The application can be used to retrieve 20 races to provide an intial view of your racing history. The full version of Racing Rivals costs just $8 and can be used to retrieve your full iRacing history from the very beginning until way into the future. I hope you find the application useful and will consider purchasing as it enables me to continue adding improvements and more features.
Pre-requisites
In order to make use of the functionality that Racing Rivals offers you will need to ensure you are running an up to date version of Java (1.6 or later). The easiest way of checking this is to visit :
http://www.javatester.org/version.html
to see what version of Java it finds on your machine. If you don't have Java (or you have a very old version) you can download the latest version directly from :
http://www.java.com/en/download/manual.jsp
Once you have Java installed you are all set to go.
Download the latest version of Racing Rivals.
Extract the zip contents to a suitable location, e.g. C:\RacingRivals.
Double click on RacingRivals_v2.6.9_64.exe. If the program doesn't load you are likely running Java 32bit (and you should use RacingRivals_v2.6.9_32.exe instead) .
After a short delay you will be presented with the initial Racing Rivals window (as shown below). If for some reason you don't see Racing Rivals contact me via my email below and I'll help you get things working.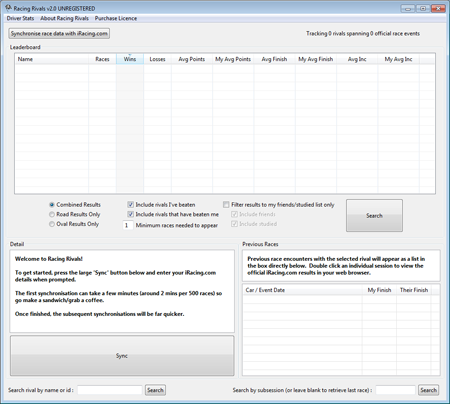 Synchronising Your Race Results
The next step is for Racing Rivals to retrieve your iRacing.com racing history from the iRacing member site.
Press the 'Sync' button to start the process.
Enter your iRacing.com login details and Racing Rivals will start the download process. Depending on the volume of your history this step might take a short while (allow 2 minutes per 500 races in your history as a rough guide). Once this step is complete you are good to go!
What If I Don't Want To Enter My iRacing.com Login Details?
Racing Rivals needs to know of your iRacing account details as it uses them to connect to the iRacing member site and retrieve your racing history.
Your login information is not modified, re-transmitted or used for any other purpose then to download your race results onto your local machine. It's as safe as logging onto the iRacing.com member site yourself.
Problems? Commonly asked questions
Q. I can't login but I'm definitely using the right password!
A. First, make sure you are supplying your iRacing email address as your username (not your display name). If synchronisation still does not work you may be behind a proxy server and so Racing Rivals is not able to connect to the iRacing membersite. If you know the details of your proxy server (your ISP can provide this information on request) you can add the details to the Racing Rivals configuration file manually. Open the supplied app.properties file and change the following settings :
# Proxy details
http.proxySet=(true or false)
http.proxyHost=(name of proxy server)
http.proxyPort=(port of proxy server)
https.proxySet=(true or false)
https.proxyHost=(name of proxy server)
https.proxyPort=(port of proxy server)
If you continue to have problems and cannot synchronise your race data you can send me an email and let me know.
If you have a problem or general comments (perhaps feature suggestions) about the use of Racing Rivals please email me at RacingRivals@samiad.co.uk – I'd be happy to hear from you. Please let me know what version of Java you are using (you can use the 'About Racing Rivals' button in the application for this).
Finally, Racing Rivals is the product of hundreds of hours of development and maintenance, and is provided to benefit the iRacing community. If you have found Racing Rivals useful please consider purchasing as it provides justification for me to invest time to continue working on it – thanks!
Thanks and Happy Racing!
Sam Hazim
Racing Rivals Version History
12th June 2020 – v2.6.9 – Mandatory update to restore login capability.
21st January 2020 – v2.6.8 – Mandatory update to restore API access.
28th May 2018 – v2.6.7 – Minor update to handle situations when the iRacing membersite is overloaded.
9th March 2018 – v2.6.6 – Improved session parsing – will no longer ingest unofficial races that iRacing incorrectly report as official.
5th March 2018 – v2.6.5 – Previous optional web API parameter made mandatory by iRacing.
14th December 2017 – v2.6.4 – Changes required due to iRacing backend updates.
11th February 2017 – v2.6.3 – Changes required due to the release of the Porsche 911 GT3.
12th August 2016 – v2.6.2 – Mandatory bugfix due to minor changes to login process.
31st May 2016 – v2.6.1 – Bug fix; the previous release could not synchronise results for people who only raced a single discipline (e.g. road only, or oval only).
25th May 2016 – v2.6 – Mandatory update for changes to iRacing result format.
4th January 2015 – v2.5 – Mandatory update for changes to iRacing result format.
26th October 2014 – v2.4 – Mandatory update for changes to iRacing result format.
15th August 2013 – v2.3.1 – Bug fix for users with very large friends lists not being able to register licence.
23rd February 2013 – v2.3 – Mandatory update to support recent iRacing infrastructure changes.
28th October 2012 – v2.2 – Minor release, improvements to downloading of results (over twice as fast!) and bugfixes.
10th July 2012 – v2.1 – Minor release, changes/improvements:
Extra filters added for the track and vehicle tables. Can now filter by road/oval discipline and also by track/vehicle
Application now remembers your setting for Road/Oval/Combined when you close down the program
Minor bugfixes including localisation issues with countries using commas (,) in place of decimals (.)
29th June 2012 – v2.0 – Major release, several changes/improvements:
Further improvements to synchronisation speed (especially for drivers with large histories)
More graphs (avg. pts/inc per race rolling average, with car filtering)
Extra vehicle statistics
A new statistics view for circuits (which tracks yield my best results? Most dangerous tracks?)
Ability to save logon information for subsequent program launches
General minor bugfixes and optimisations
5th August 2011 – v1.2.2 – Minor update required for use with 2011 Season 3 version of the iRacing membersite.
7th May 2011 – v1.2.1 – Minor bugfixes for correctly storing extended characters in drivers names
5th May 2011 – v1.2 – Several changes/improvements:
Fixed races not syncing when membersite gives HTTP 500 error (used to be a problem in the 2011 Season 1 membersite)
Improved Multiclass race parsing (e.g. if you finish 3rd in class but 8th overall the app will now register your result as 3rd, not 8th)
Added 'iRating change per race' for each vehicle raced to allow for at a glance evaluation of your 'best' cars
Added graphs to the driver stats page. Can now display iRating and safety rating on a graph to guage progression
21st October 2010 – v1.1 – Mandatory update following iRacing website changes. Improved the sync delay slightly. Fixed display bug when viewing closest rival details.
17th May 2010 – v1.0 – Now tracks Road & Oval results separately. Added vehicle stats (see how much iRating you have won/lost per car).
13th May 2010 – v0.91 – Minor bugfix to allow special characters (e.g. ! #) in the password. Added content assist feature to the Rival Search box.
8th May 2010 – v0.9 – First public release, baselined for iRacing.com 2010 Season 2.
Disclaimer
Racing Rivals is not affiliated with iRacing.com™ Motorsport Simulations, LLC. and as such changes to the iRacing.com membersite may adversely affect the operation of this utility. In the scenario that Racing Rivals stops working due to changes outside of my control I will attempt to correct the issue on a best endeavors basis, but no guarantee of continual operation is implied.